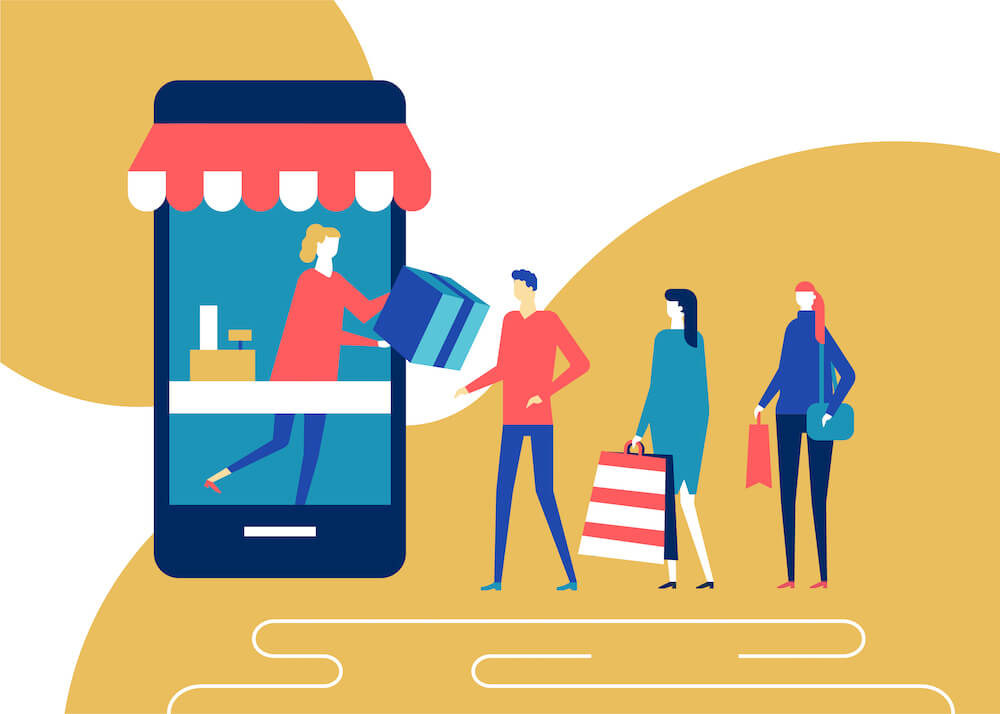 Click and collect? In-store pickup? BOPIS? BOPUS? These are all eCommerce buzzwords that have emerged within the past several years to describe the same concept. Click and collect has become a common approach for major retailers to compete with online giants, such as Amazon, by combining digital experiences with physical storefronts — but what exactly is it?
With an expected adoption of over 90% for retailers and 141 million shoppers in the U.S. by 2021, click and collect is an important concept to get behind, and ahead of. This guide provides you with everything you need to know about the click and collect business model as it functions in the U.S., and what it means for you.
Contents:
What is click and collect?
Click and collect, also known as "buy online, pickup in store" (BOPIS), is a hybrid eCommerce business model in which brands offer consumers the option to place orders online and pick them up in person, at a retail location or central collection point. The goal of click and collect is to combine the convenience of online shopping with the instant gratification of traditional brick and mortar.
The way retailers implement click and collect can vary, but the overall concept is usually similar. It starts with a consumer shopping online, through a website marketplace or app, and adding items to their cart. Then, when checking out, instead of getting the items delivered to their doorstep, they can opt for a click and collect selection. The physical location will then receive the order, fulfill it and send a notification that it is ready for pickup. Once it has been collected from the shelves, the consumer that placed the order can go to the agreed upon location at their earliest availability to accept their items.
Why is click and collect catching fire?
Click and collect is gaining traction in the U.S. for a multitude of reasons, but its popularity comes down to convenience and cost. For consumers, BOPIS options are typically free of charge while still avoiding the need to navigate store aisles or wait for order deliveries. For retailers, there are cost savings associated with less manpower and monetary resources, as last mile shipping and fulfillment costs are eliminated.
Additional specific benefits for consumers include:
Is conducive to last-minute shopping needs and supplies.
Avoidance of common issues with home delivery, such as weather delays, missed delivery windows and stolen packages.
Stronger understanding of products from access to online FAQs, ratings and reviews.
Additional specific benefits for retailers include:
Increased retail foot traffic and likelihood for upsell.
Lower cart abandonment rates.
Better management of customer experience and satisfaction.
Click and collect makes sense as a viable solution, especially during a time that retailers are feeling the pressure to adapt to evolving customer needs and competitive business strategies. Therefore, brands need to get on board with supporting the pursuit of BOPIS in order to reap the rewards.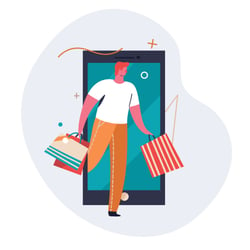 Challenges of click and collect
Click and collect is still in its early days for the U.S., so there are still a few wrinkles to iron out. Some of the challenges consumers face with click and collect include:
Instant gratification — Gratification may not be as instant as desired. Since a store employee still needs to process and pull the order manually, if a consumer needs their items within a short timeframe, they may still be better off with traditional in-store shopping.
Product substitutions — For the grocery pickup industry especially, product substitution can become an issue. Because food items can be hard to predict demand, personal shoppers tend to replace smaller items with "like" items if it turns out the requested item is out of stock. For example, a different brand of the same food item. Substitution can be associated with unwanted price increases if the item substituted is more expensive, or other issues (i.e. unhappy customers) if not receiving the exact items ordered.
Assortment limitations — Product options may become limited by inventory restrictions of specific geographic locations. For example, when shopping for delivery, a shopper may have access to hundreds of brand options for a particular category while only a select few are available on the physical shelf for click and collect.
Other customer service issues — Similarly, BOPIS orders that are placed may not always be confirmed. For example, an online shopper may have placed an item for pickup that says it is in stock when in reality, the last item is already in someone's physical cart in the store. While their order will be refunded, this often causes customer dissatisfaction. In some cases, the store may suggest a similar item, but this may not meet the original needs. Additionally, click and collect does not avoid customer service issues that eCommerce can, such as longer pickup wait times, negative experiences with store employees and crowds.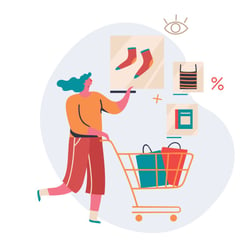 Types of click and collect service models
Retailers can implement click and collect functionality in a variety of ways, including:
In-store click and collect — This is the most traditional form of buying online and picking up in store. A shopper will visit a retailer website to add items to their cart that are specifically in-stock and available at their most convenient retail location. Then, the shopper completes and pays for the order online, selecting the in-store pickup delivery method. While most orders are fulfilled in a few hours, some retailers include the ability to choose a pickup time window. Once the order is placed, a store associate will prepare the order and send a notification to the shopper when it is ready. The items are then available to be retrieved from a designated counter or area within the store.
Buy online, pickup in locker (BOPIL) — The process of BOPIL is similar to in-store click and collect. However, rather than picking up orders from an employee-managed counter, the items will be available from a self-service receptacle. To complete the transaction, shoppers will enter or scan a special code from their order confirmation email that automatically unlocks the door that holds their items.
Click and hold — In this model, consumers can add products to their online shopping cart that will then be reserved in a physical retail location. While a credit card may be necessary to authorize the hold, the consumer will not be charged until they view the item in-person and confirm they want to follow through with the purchase.
Curbside pickup — With this approach, consumers can pick up online orders without entering the physical retail space. Instead, there are designated parking spots that when occupied, alert employees of the retailer to bring the order directly to the consumer. Some retailers also have a button within their mobile app that can be pressed upon arrival to signal a curbside pickup.
Ship to store — This model can be used when an item is not readily available in the store. Instead, the item will be shipped directly to the most convenient store for the shopper from another retail location or distribution center. While this doesn't necessarily reduce the time it takes a consumer to receive their orders, it does typically come as a free shipping option.
Third-party location pickup — This is a popular click and collect option for brands that don't have a vast brick and mortar presence. Rather than picking the order up from a direct retail location, the brand will partner with a third-party business that will act as the order pickup point. Examples of these third parties include Amazon Lockers and most national postal carriers.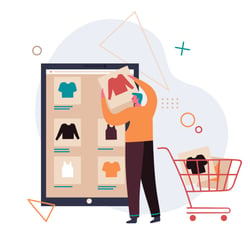 Major players in the click and collect space
One of the best ways to understand the click and collect business model is to observe retailers that are already implementing this well, and succeeding at making it profitable. Here are some retailers considered to be major players in this space:
Walmart
Walmart is one of the pioneers in the retail click and collect space, offering consumers the option to complete pickup at a dedicated service desk or curbside from the comfort of their car. Walmart is also continuing to rollout Pickup Towers (self-service pickup kiosks) in some of its retail locations. Walmart's click and collect patrons can receive their orders in as little as a few hours and can alert store associates through the Walmart app when they are on the way to the store. Additionally, some items that are shipped to store for pickup are offered at a discount since it costs less for Walmart to fulfill.
Best Buy
As the leading click and collect offering for electronics, consumers are finding the value in seeing the items they have chosen before taking them home, with the option of asking trained and knowledgeable staff any questions they may have. Best Buy offers both in-store pickup at the customer service desk and curbside pickup at participating locations. For larger purchases, such as major appliances, Best Buy also offers a Warehouse Pickup option.
Target
Target has also begun to aggressively expand and showcase its click and collect services. Starting with same-day in-store order pickup, Target has invested in the infrastructure required to check inventories across all locations and minimize fulfillment time. Target also launched a Drive Up option in 2018 that has now been implemented in over 1,750 stores across all 50 states. This has proven to be successful for the retailer as Drive Up orders doubled from 2018 to 2019 and resulted in a higher rate of first-time shoppers.
Macy's
Macy's has two options when it comes to buying online and picking up in-store. The first is a traditional in-store inventory pickup that is available within two hours; the second is a ship-to-store pickup that is available within 5-8 business days. Occasionally, Macy's will also offer click and collect shoppers promotional savings passes for placing an order.
IKEA
While most furniture stores have not been experimenting with the click and collect model, this is not the case for IKEA. Instead of having to wander through the notoriously complicated store for items and then locate them in the warehouse, shoppers now have the option to buy online and pickup in store. Not all IKEA locations offer this service, but those that do will be listed upon checking out online. There is a $5 click and collect fee, but every order also comes with a $5 gift card for a future purchase once the items are retrieved.
Home Depot
Home Depot is a big advocate for click and collect as its executives have openly discussed the advantages it has brought to the company. Home improvement items are popular for this business model as often they can be fragile or difficult to ship, or they require a consumer's physical validation (i.e., to confirm a specific paint color). In addition to choosing "Pick Up In-Store" at checkout, online shoppers can also filter their product searches to only show items with this eligibility.
Nordstrom
Nordstrom focuses on in-store pickup options for in-stock inventory. When a shopper is looking at items online, they can filter results by choosing the "Shop your store" option. When an order is placed, it will be available within a few hours at the service desk or participating curbside locations. This feature is especially useful around the holidays, but may result in an increased wait time.
Petco
Petco was the first major petcare retailer to implement click and collect services with its same-day in-store pickup feature. This has proven to be a popular service for pet owners' last-minute needs, like bags of food and replacement petcare items.
Bed Bath & Beyond
Bed Bath & Beyond opts for the reserve online, pickup in store model where shoppers choose their items online but still must purchase them upon arrival. However, employees will collect and hold the items at the service desk to be ready within the designated timeframe. This service is especially common in combination with the retailer's Bridal Registry business, as customers can reserve a gift the day of a function, wrap it in store and take it with them.
Apple
While Apple stores do not usually have trouble getting consumers to enter the doors, there are some customer experience elements that a click and collect strategy helps address. Rather than waiting in long lines for a specialist to help find, purchase and activate an item, in-store pickup comes with a guaranteed timeframe for assistance. Eligible items for this service will be marked with either Available Today, Pickup In-store or See availability in other stores.
***It is important to note that each click and collect retailer has different policies. So before placing an order online for in-store pickup, make sure you are familiar with their instructions around what is needed for proof of identity and how long an order will be held.
Click and collect model type by retailer
| | | | | | |
| --- | --- | --- | --- | --- | --- |
| Retailer | In-store pickup | Buy online, pickup in locker | Curbside pickup | Buy online, ship to store | Click and hold |
| Walmart | x | x – some locations | x | x | |
| Best Buy | x | | x – some locations | | |
| Target | x | | x | | |
| Macy's | x | | | x | |
| IKEA | x | | | | |
| Home Depot | x | | | | |
| Nordstrom | x | | x – some locations | | |
| Petco | x | | | | |
| Bed Bath & Beyond | | | | | x |
| Apple | | | | | x |
While these retailers are considered major click and collect players in the U.S., it is worth mentioning that this business model has been practiced in Europe for a significant amount of time. In fact, a study revealed that only 28% of current U.S. retailers offer BOPIS options compared to the global average of 38%. Some of the leading click and collect retailers in Europe include Argos, Tesco, John Lewis and Leclerc.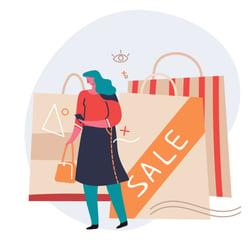 Implications of click and collect for brands
As with all business models, click and collect influences brands and how they form their overall strategies. Namely, where to play, who to target and how to market. This idea can be broken down further into two categories, implications for the demand chain and implications for the supply chain.
Demand Chain
Demand chain has to do with how brands understand and promote their products. The first difference of click and collect on demand is target audience, as BOPIS shoppers tend to be younger and more tech-savvy than traditional in-store shoppers. Therefore, product content and advertisements should be optimized to attract this crowd.
The second difference is how BOPIS shoppers prefer to browse. Categories that depend on impulse buying at the point of checkout tend to suffer with click and collect as these shoppers are more purpose-driven. To counteract this, brands need to consider how to replicate impulse purchases through methods like add-on offers and frequently paired suggestions.
Supply Chain
Supply chain covers matters associated with making, selling and distributing products. The main implication of click and collect on brands here is taking shelf space and availability under heavier consideration. Since in-store inventory is used to fulfill BOPIS orders, brands need to decide where and how much of their products should be physically located on the shelves. This also implies that perhaps brands with larger products, that require more inventory volume, should not prioritize click and collect as a strategy.
All signs point to a bright future ahead for the click and collect model, which could help brands decide where best to focus their efforts. For example, retailers with stronger, more sophisticated BOPIS processes likely are best positioned to win long term than those without.
What brands can do to succeed with click and collect models
Focus on assortment and availability.
With click and collect, in-store availability and monitoring inventory rates is crucial. You should have the appropriate inventory alerts set up that notify you when a physical retail location needs more of your product, as out of stocks can occur more frequently, costing you sales. In addition, your product assortment in physical retailers should be strong. Since most BOPIS methods pull from on-shelf inventory, make sure you offer a wide variety of your products in a retail partner's most highly trafficked geographic locations. It's also a good idea to work with each retailer to ensure your products are being marked appropriately as available for in-store pickup options.
Emphasize product search result placement.
Making sure your products appear at the top of search results is fundamental for all eCommerce business models, but it is especially true for click and collect. If a shopper can't find your products online, they can't add it to their virtual shopping cart. Many click and collect shoppers tend to be replenishment and stock-up buyers, often using past orders saved by the retailer website to generate a future shopping list. So, if you are not visible, you won't get the first sale, or the next one.

Since only a few click and collect retailers currently offer the ability to sponsor search results (e.g., Walmart, Target and Kroger), maximizing search visibility comes down to making sure your product descriptions are organically optimized to appear high in search rank. Since every retailer uses different algorithms to determine search rank, it is important to work with an analytics expert like Profitero to get the insights you need.

Nail your digital packaging.
In physical stores, your product may stand out against competitors on the shelf. But replicating this effect online with just your product description page becomes a bit more challenging. So, you will want to leverage whatever space you have to include supporting images or videos that showcase the benefits and use cases of your products.
Maintain consistency.
To make click and collect a more attractive option for online shoppers, make sure that they are receiving the same level of quality in-store as they would online. This includes standardized pricing, ensuring online product content matches the in-store products, and offering the same standard of customer service or support.
Work with retailers to provide a good shopper experience.
Finally, understand that click and collect is a newer concept for everyone, including retailers, so it is important to work collaboratively to make the process better and easier. For example, Kimberly-Clark was struggling to get traction for its products using the click and collect model, and noticed that this was due to consumers not being aware BOPIS could be used outside of the edible food items realm. In response, the brand worked with retailers to widen consumer perception of the click and collect approach, and immediately started to see positive results.

What retailers can do to succeed with click and collect models

Ensure you have the right requirements.
Before considering implementing click and collect, retailers need to make sure they are properly equipped. Basic physical requirements include a large enough in-store storage space to keep and process online orders, and a secure holding system that effectively organizes orders prior to pickup.

Apart from physical requirements, retailers must also have the capacity to manage a fully integrated inventory. This means having an internal system that can keep track of inventory across all business units in real time, enabling online shoppers to find accurate inventory levels as well as facilitating shipping between retail locations.

Make the process seamless.
Consumers will only use click and collect services if they are simple to understand, and convenient. A few ways to boost ease of use include:

Notifying shoppers of every step in their order, including confirmation that the order has been received, an alert that the order is ready for pickup, and reminders if the order has not been retrieved.
Making sure the pickup point is centrally located, easy to find and properly signed.
Ensuring that wait time is as short as possible.
Training employees on how to handle every step of the process, from fulfilling orders to answering questions to handling returns.

Third-party services, like Doddle and Rakuten Ready, are available to help retailers establish and streamline their click and collect strategy.

Notify consumers of the option.
Once a click and collect process is in place, retailers need to make shoppers aware of it. This can be accomplished through creating marketing materials, highlighting the new feature on the website home page, and running promotions. For example, retailers may want to offer first-time BOPIS users a percentage off their initial order.

What does the future of click and collect hold?

Just as the concept of click and collect has grown tremendously in the past several years, there is still plenty more ground to cover. Major retailers and consumer trends are bringing new ideas to the table that will have large implications for eCommerce as a whole. Some things to consider:

A business model of buy online, deliver from store. Rather than have customers cover the last-mile shipping step, orders could be shipped directly to their doorstep. But unlike traditional online shopping, the order would still be processed in a retail location that acts as a storage, fulfillment and distribution center. Walmart is beginning to experiment with this approach in order to help combat pressure from Amazon's free Prime two-day shipping. Due to its vast geographical retail coverage, select Walmart stores now have a hidden fulfillment center to receive shipments of large online order quantities to then be sorted and delivered shorter distances.
The next major push will be around convenience. This means that once click and collect is properly implemented, efforts should be made to streamline and augment this process. For example, the process should become as close to online shopping as possible with more adoption of self-service kiosks or pickup lockers, removing the need for employee training, interaction or chance for error. Furthermore, not only do customers want the convenience of picking up in store, they also want to be able to return in store. Internal systems should be configured to handle this customer request regardless of whether items were purchased online or in-store.
Lastly, expect the adoption of BOPIS methods to vary by industry. Sectors more likely to be successful are ones that are not conducive to multiple-day delivery, such as food, or benefit from being seen or tried on prior to purchase, such as clothing. This includes grocery, toys, home improvement and technology sectors. On the flip side, click and collect is less likely to thrive in industries where pickup is difficult or inconvenient such as with large or heavy items. For example, the furniture and appliance industries may be better suited to stick with home delivery options.

Conclusion

So there you have it, the definition of click and collect along with everything it entails. This guide will continue to be refreshed to properly reflect changes in trends. Feel like we missed something? Or want to find out how Profitero can help guide your click and collect journey? Contact us!