Price Wars:
2023 U.K. Edition
Which online retailers are beating competitors on price heading into Christmas?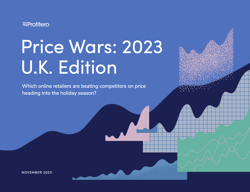 The cost of living crisis has continued to squeeze budgets making the 2023 Christmas season a particularly challenging one for U.K. consumers. So where can shoppers find the best deals amongst all this cost pressure?

For the fourth consecutive year, Profitero is pleased to share the latest findings in our Price Wars series, comparing item-level price competition across the U.K. online retail landscape.
We compared everyday online prices on over 9,700 products in 16 categories across leading retailers, including Amazon, Argos, Asda & Currys.
Check it out!