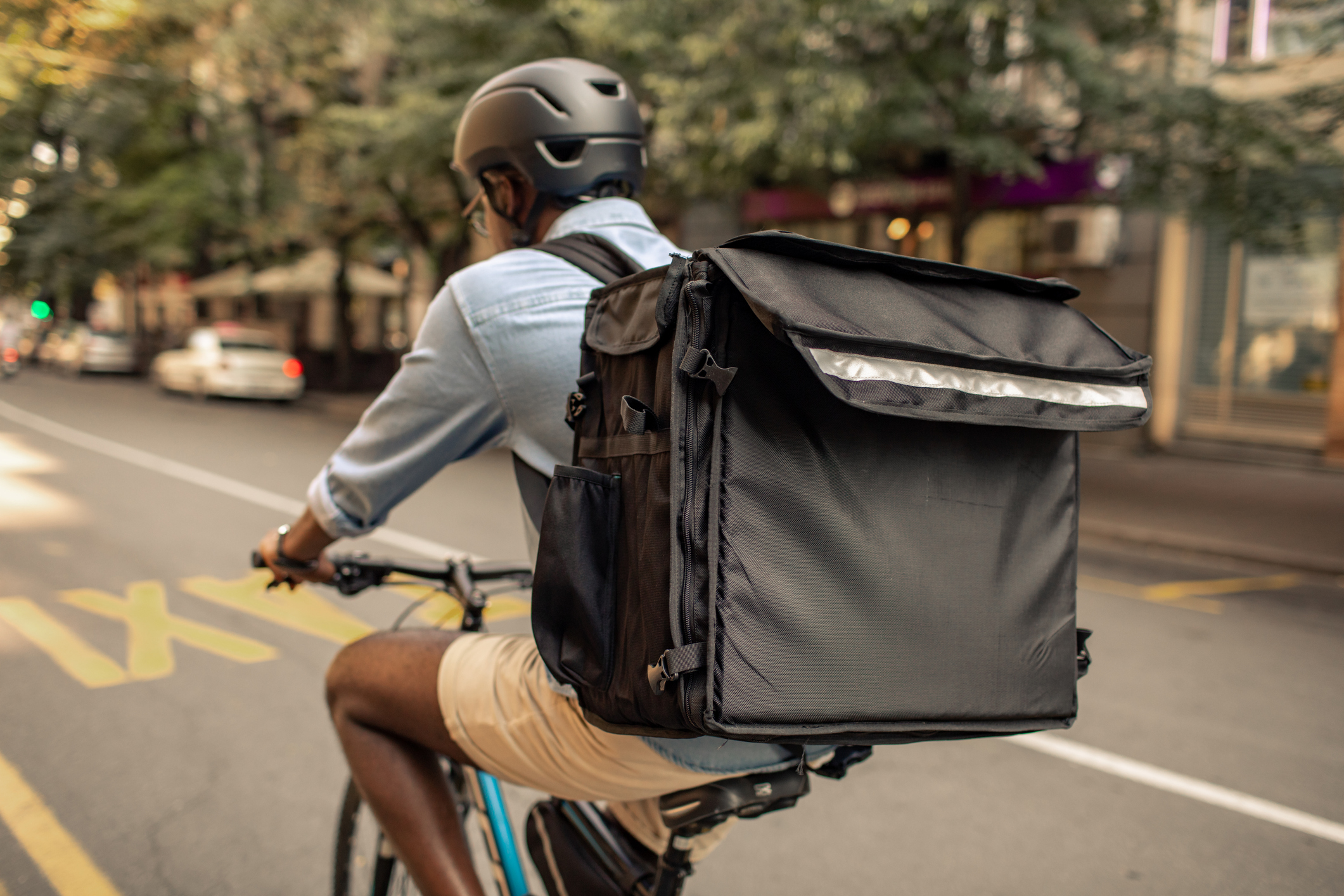 Consumers thrive on immediate satisfaction, with speed and convenience often trumping other factors along the path to purchase. Nearly a third of consumers say faster delivery is a top criterion when shopping online, according to Salsify research.
Now a host of Quick Commerce retailer apps and platforms are cropping up. They promise goods at our doorsteps nearly on-demand — sometimes in as fast as 10-15 minutes — to satisfy our cravings and need for speed.
Solid frameworks help build a foundational way of thinking about this space. Rather than viewing it as a fleeting trend, you can strategically insert your brand into the Quick Commerce space. In this article, we provide these frameworks so you can prioritize and place your bets.
What is Quick Commerce?
Quick Commerce — or Q-commerce — is being touted as the next generation of commerce. It's the term that encapsulates all the high-growth and well-funded product shopping platforms and apps that optimize for speed. Speedy fulfillment, speedy delivery in less than an hour.
Here are some key differentiators of Quick Commerce:
Ultra-fast delivery time, sometimes as fast as 10-15 minutes

Order fulfillment from a local store or dark store / micro fulfillment center (MFC)

Delivery via a two-wheeled vehicle (e.g., bicycle or electric scooter) is common
Think of Quick Commerce as instant commerce. This is the closest the industry comes to on-demand delivery, making it a desirable platform for retail brands. The below diagram highlights some characteristics across three retail models: brick & mortar vs. eCommerce vs. Q-commerce.
Key characteristics of different retail models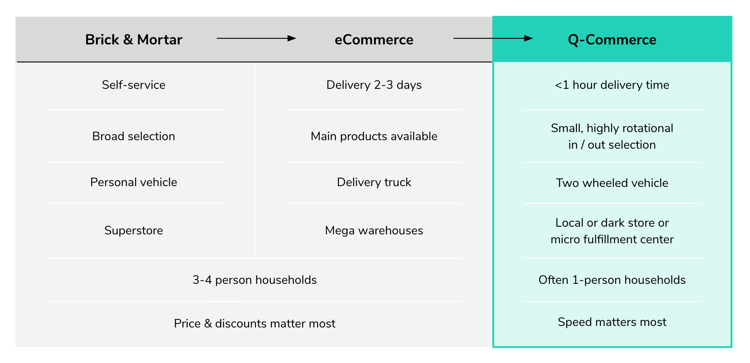 Source: Profitero, inspired by Delivery Hero
How big is Quick Commerce? How fast is it growing?
The Quick Commerce space is booming. Sales growth is off the charts, and billions in venture capital continue to pour in. According to one source (Frost & Sullivan), the influx of many of these tech-savvy and highly funded startups will help global market revenue triple in just five years, from an estimated $25 billion in 2020 to $72 billion in 2025.
If the size of the global convenience store industry is any indication (Statista estimate of $4.9 trillion worldwide), the upward growth potential for Quick Commerce is enormous. Convenience store items, which are typically purchased on impulse, are a huge market just starting to be tapped by Q-commerce players.
This is a key reason venture capitalists are pumping a ton of money into this sector — and why Gopuff, one of the sector's most established players, plans to raise more capital via an IPO later this year.
How does Quick Commerce work?
There are two fundamental Quick Commerce operating models:
Platforms — Third-party specialists or intermediaries serving as middlemen to deliver goods at lightning speed. These players typically do not own any inventory, but partner with existing stores (and other establishments, e.g., foodservice) to fill and deliver orders to the end consumer. You may already be familiar with many of these names, e.g.:

DoorDash and Uber Eats, among others, in the U.S.; and Deliveroo in the U.K., which got their start in foodservice delivery but now also work with retailers to deliver packaged foods.

Drizly, primarily in the Bev/Alcohol space, but also extending its reach somewhat into complementary grocery/food items as well.

Q-commerce retailers (apps) — Retailers that actually own and manage end-to-end operations, from buying and storing inventory through picking and delivering to the end consumer.
Is Instacart Quick Commerce?
Another great example of a Quick Commerce operating model is Instacart. They started their company to provide one-hour grocery delivery, setting the gold standard for convenience. They team with local grocers (e.g., Kroger, Walmart, Costco, Walgreens, and more) to offer rapid fulfillment.
Their business model has since expanded to include next-day delivery and more. Instacart is an excellent example of a Quick Commerce model that optimizes its platform.
During the Covid-19 pandemic, brands expanded their channels and catered to instant commerce delivery. Instacart owns the grocery delivery space.
Quick Commerce operating models at a glance
Source: Profitero research
Quick Commerce is not a model for all markets, however. It works best in densely populated urban areas. For example, in the U.S., McKinsey research "found roughly 20 cities have densities that would justify the investments to enable same-day or next-day fulfillment" (e.g., New York City, Chicago, Los Angeles, San Francisco, etc.).
Who are the top Quick Commerce players?
A host of new well-funded, venture-backed Quick Commerce players continue to emerge on the scene, what seems to be on a near-daily basis. You may already know of Gopuff, the granddaddy of Q-commerce, around since 2013, or Gorillas, which launched in Germany in 2020 and is now available throughout Europe and in New York City.
Below is a timeline of some of the "bigger" names (and events) in Quick Commerce that you should be aware of.
Timeline of Q-commerce entrants and key acquisitions, U.S. and Europe
(meant as illustrative, not exhaustive)
Source: Company reports; Profitero research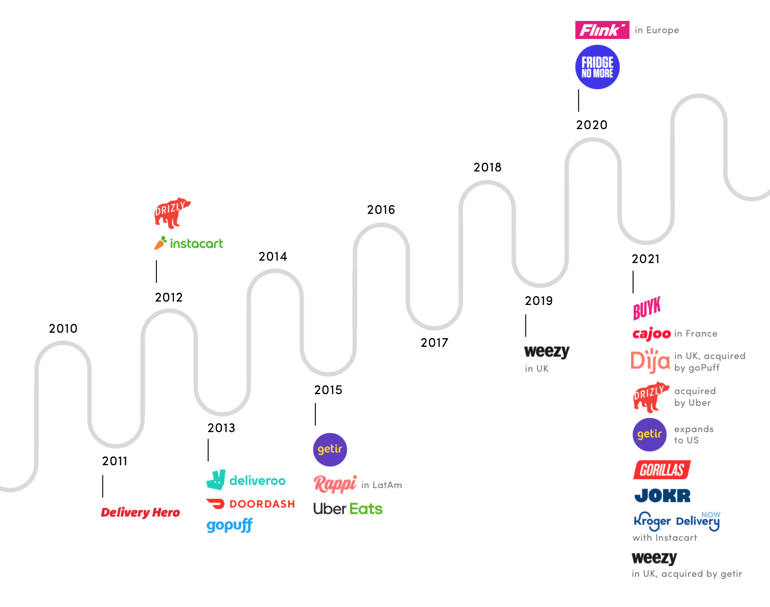 What is the unit economics process of Quick Commerce?
It's no secret that making money in eCommerce is tough. Profitability remains the #1 concern of eComm executives, according to our latest benchmark survey. But what about Quick Commerce? (Spoiler alert: Lighting money on fire is much easier!)
As it stands right now, the unit economics of ultrafast delivery is unsustainable, which some major business publications and trade media have been quick to point out.


Several factors make Quick Commerce unit economics challenging. These include:
Customer acquisition costs — Right now, it's a race to acquire new customers, which can be an expensive undertaking. Keep in mind that Amazon consistently lost money for years building up its customer base before turning a profit. And just a few years ago, home kit delivery services (e.g., Hello Fresh; Blue Apron; et al.) headed down a similar path in their quest to acquire new customers.
The high cost of new customer acquisition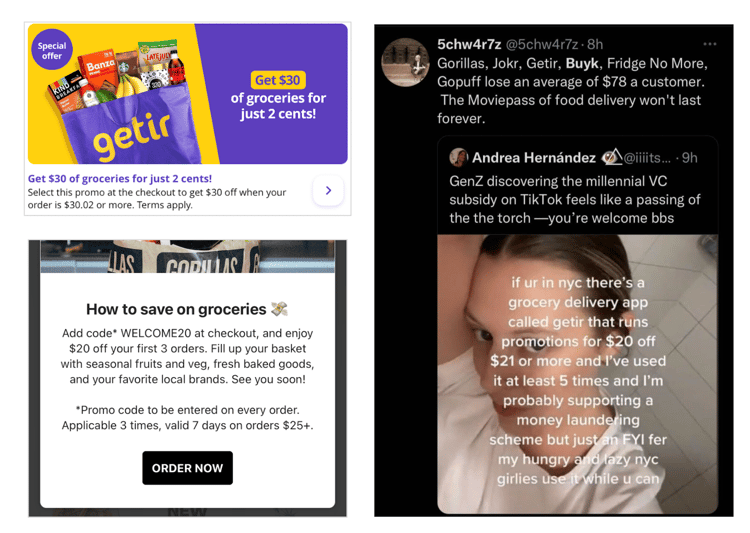 Handling of many small orders — Small impulse and immediate consumption orders characteristic of the Quick Commerce delivery model are not exactly the same money-makers that big stock-up trips are for a Walmart, Kroger or Tesco. There's much more labor, packaging and materials handling involved than the click & collect model.

Inventory ownership and warehousing of goods — Buying and storing goods isn't cheap either. While empty real estate in urban areas may be easy to come by these days, it certainly isn't cheap. And then there are supply chain issues to deal with. Business Insider has reported that Gopuff spends thousands monthly actually buying some products through Instacart or other retailers to always keep a core set of SKUs in stock.

Labor costs — A combo of contract and company employees typically are used for delivery purposes. But, more often than not, they're on the retailer payroll, which means paying hourly wages and benefits. Additionally, compared with more established delivery services, including the Quick Commerce platforms (like Uber Eats, DoorDash, etc.), Q-commerce retailers need more labor to work the network of dark stores and MFCs.
So the question becomes: Can the unit economics of Quick Commerce ever work? The short answer is: Possibly, but it will take some time and more investment. Some factors that could begin to tip the scales toward profitability:
More scale — Quick Commerce is new. It will take time to build the economies of scale and attract enough consumer interest (i.e., new customer acquisition) to be successful. But the day of reckoning is coming. Not all will survive. We're already seeing some shakeout and consolidation in this space. Some transactions in 2021: Uber's acquisition of Drizly (U.S.), Getir's acquisition of Weezy (U.K.), Gopuff's acquisition of Dija (U.K.).

Automation — Outfitting dark stores and MFCs with automated order picking and fulfillment processes (like Kroger is partnering with Ocado to do in its full-size online warehouses) could be more efficient and a money-saver in the long run. As could the use of robots or unmanned delivery vehicles as a way to reduce labor and operating costs. But automation is a big investment, one most startups are likely unwilling or unable to make at the onset.

Should your brand be prioritizing Quick Commerce?
Only you can decide if Quick Commerce should be a priority for your organization after considering and weighing the tradeoffs. This new form of commerce provides multiple benefits for brands. If your organization could benefit from implementing this model, then strategically implement elements and place data-driven bets.
What are the benefits of Quick Commerce for brands?
Connection to a key shopper segment — Namely, a younger shopper audience of millennials and Gen Zs — which is the core composition of the convenience store industry's shopper base, according to a report by Technomic. Take for example Gopuff, which started on a college campus. While the average Gopuff shopper is in their mid to late 20s, the retailer has expanded from targeting only students to including busy parents and career-focused individuals.

Incremental distribution for highest household penetration SKUs — Quick Commerce won't give you broad distribution of all your SKUs. However, what Quick Commerce will give you is incremental distribution for your bestsellers. That's what Amazon and other retailers are about.

Launchpad for new items — A narrowly focused assortment allows Quick Commerce retailers to learn what products work — and what don't, and rotate items in and out quickly. This highly rotational assortment is opening the door for newly launched items and local products to gain distribution to supplement bestselling stalwart brands.
Quick Commerce provides a launchpad for new products and local brands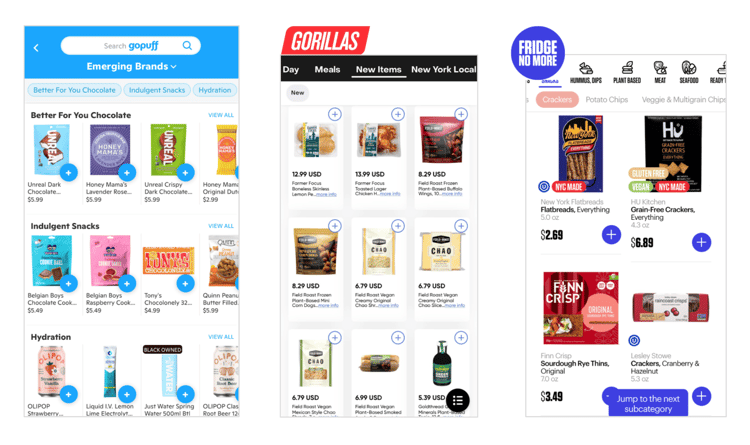 Digital impulse merchandising engine — Quick Commerce can complement or replace a "convenience store" or fill-in/impulse shopping trip, , filling a noticeable gap in the eCommerce space. Impulse merchandising in brick & mortar stores isn't what it used to be. Given the surge in click & collect, self-checkout, and scan & go technology, skipping checkout lines altogether is common. Quick Commerce could bring some welcome relief to brands heavily reliant on impulse shopping.
What are the challenges associated with Quick Commerce?
As with any commerce platform, there are unique challenges involved with Quick Commerce. Here are two to be aware of:
Rotational distribution — A big risk you take investing in Quick Commerce is the sector's "come & go" distribution. The Q-commerce assortment tends to be very rotational, with products coming and going all the time. A lot of this depends on how well items are selling or not; seasonal and promotional calendars; and market-specific trends.

Limited SKU assortment — The typical brand only has about a dozen or fewer items represented on any one Q-commerce site. So if you're expecting broader or more far-reaching distribution of your products, Quick Commerce may not be the right place for you.
Quick Commerce's Explosion During the Pandemic
The Covid-19 pandemic took the entire world by storm. Collectively, many aspects of daily life transformed, including our shopping habits. Before the pandemic, one-hour deliveries were rare and still sounded futuristic. Now, they're a regular part of our world.
To develop a solid strategy, we have to think about how the pandemic changed the eCommerce landscape. For one thing, it brought about unprecedented levels of innovation. If you thought eCommerce was growing rapidly beforehand, the past two years have accelerated that pace.
The Quick Commerce explosion came from brands finding a nearly universal pain point with a clear, offerable solution. The formula was simple: people couldn't leave their houses, so they needed fast and reliable delivery for daily necessities as well as circumstantial desires.
Strategizing for the Speed of the New World
The speed of the world is forever changed. We've seen ten years of growth in just three months. At the same time, customers are reconsidering their loyalties. Quick Commerce is swooping in to fill that space.
To account for all of this change, consider these points as you approach Quick Commerce decision-making:
1. Analyze the speed of your decision-making process — As you move into the Quick Commerce space, things in your organization will be moving faster than ever. It can be helpful to approach this stage of development with as much information as possible, including the speed of current processes.
2. Streamline your structure — Quick Commerce presents more demand and a need for quick, nimble, and empowered teams. Consider streamlining the structure of your teams and processes to intentionally tackle this platform.
3. Nourish valuable partnerships — The transition to instant commerce can be overwhelming and confusing; this is all new and largely unpaved terrain. Create partnerships with platforms that explain the ins and outs of the system. Most importantly, the right partnerships can help you get where you want to go. For example, Profitero can help you generate actionable insights to make data-driven decisions.
How do I get involved with Quick Commerce?
As an industry we certainly have much to learn about Quick Commerce, its operating models, and the different retailers and platforms involved in this space.
But one thing is certain: There is plenty of opportunity for brands to get involved, and test & learn in Quick Commerce. With so much you can do, we recommend prioritizing and placing your bets to make the most of your efforts.
Prioritizing and placing bets in Quick Commerce
Source: Profitero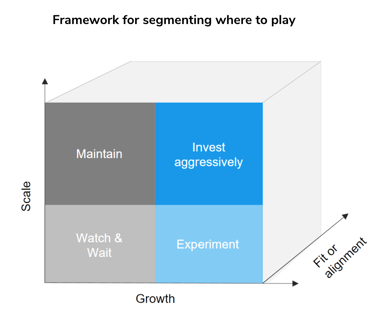 Some questions to ask:
Is Quick Commerce Right for You?
The framework below can serve as a starting point to help guide your decision on whether your category or product is a good fit for Quick Commerce.
Category affinity for Quick Commerce
Source: Profitero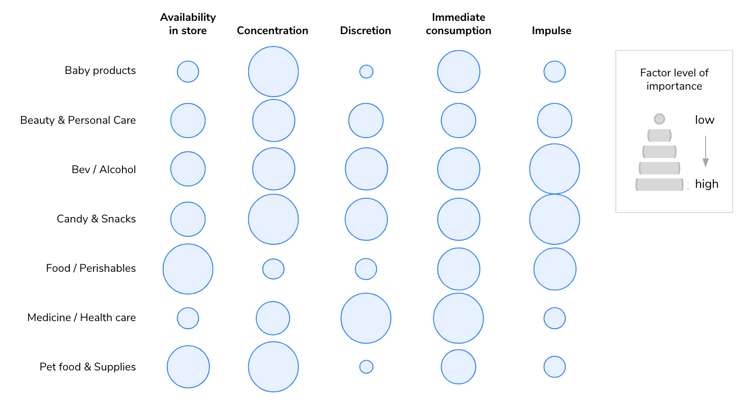 Use Profitero to Strategically Plan Your Brand's Entry into Quick Commerce
There's a lot of noise around Quick Commerce in the eCommerce world. It can be hard to sort through it all and determine what actionable plan will benefit your organization the most.
It's time to discover how Profitero can help. Gain valuable insights into your organization and use our team of experts to determine if Quick Commerce is a good fit for you. Contact us today to get started.