U.K Grocery SEO, Decoded
What we learned by reverse engineering the search algorithms for the top 6 U.K. grocery retailer websites & Amazon co.uk.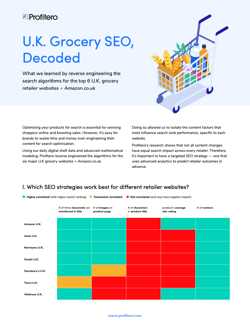 Download the report to discover:
Which SEO strategies work best for different retailer websites
What search optimised grocery content looks like by retailer
Not all content changes have equal search impact.
Using our digital shelf data and advanced mathematical modeling, Profitero isolated which content factors most influence search rank performance, specific to each website. This report can help your brand to developed target SEO strategies for each retailer, predicting retailer outcomes in advance and winning shoppers online.