The Product Availability Playbook
Expert advice, valuable tools and detailed research to help your brand avoid the costly penalties of low stock rates. Bookmark this page as we'll be updating it regularly.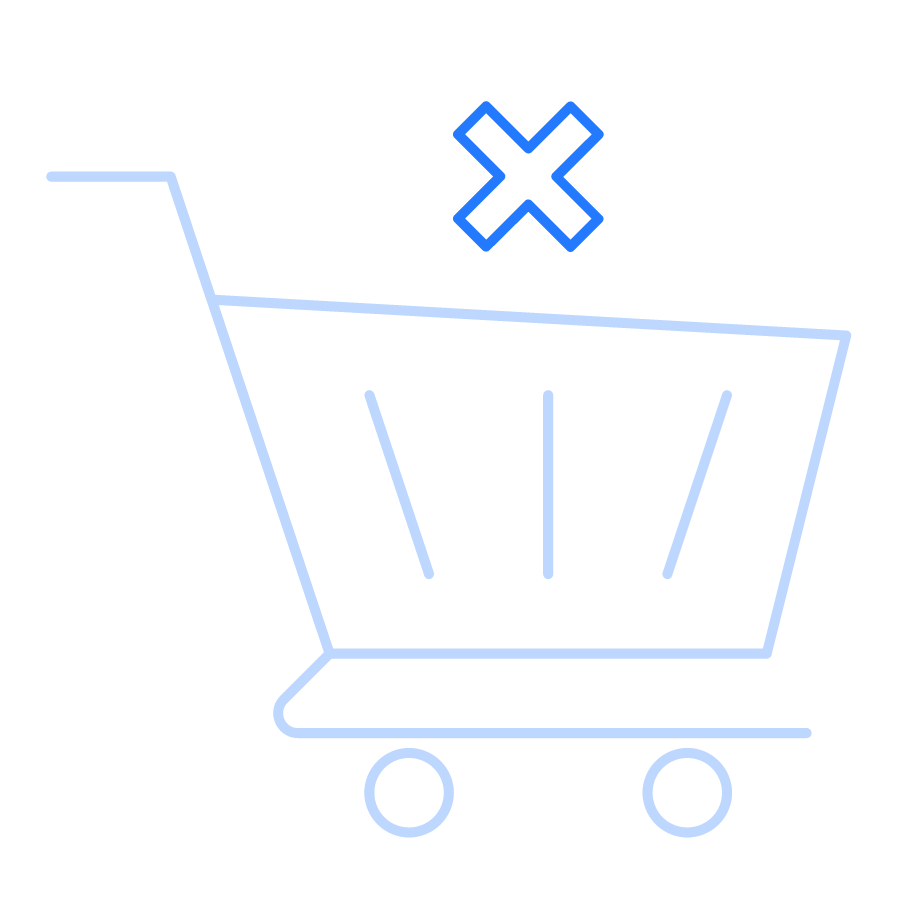 Staying in stock is a fundamental principle of effective retail execution. Consumers can't buy what's not in-stock. But the penalties of going out of stock (OOS) are bigger than you think.
Brands can lose 42% of their sales when in-stock rates drop to a low level (from a high 90%+ in-stock rate to <30%). And our research shows it takes 6-7 days to recover organic search placement on Amazon, Walmart.com and Tesco.com after being OOS for 2+ days.
Tracking online availability daily across retailer sites should be a top priority for every brand in order to quickly identify and fix availability issues.
PRO TIP:
Walmart's algorithm penalizes out-of-stocks more than Amazon's does. It can take almost double the amount of days to recover search placement on Walmart.com vs. Amazon. And the longer you remain out of stock, the more significant your drop in search placement, the longer it takes to recover. Download our availability report to learn more.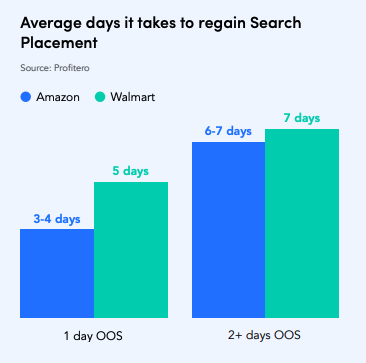 "With Profitero, we have a trusted data partner to help Henkel systematically track eCommerce KPIs, and to align our global and local teams to drive purposeful growth."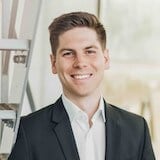 Boris RÜTTEN
Senior Manager, Global eCommerce
Henkel
Use Amazon search frequency analysis to better forecast demand.
Hear how a Profitero client utilized this valuable data to shift demand towards online and DTC channels.

Featuring John Phillips, Director of Insights at Profitero
SOURCE: FirstMovr JBPx eCommerce Growth Summit for Winning with Amazon.
Align your advertising and supply chain teams to protect your organic search ranking.
Utilize your manufacturing teams as your "eyes and ears on the ground" to prevent OOS issues from impacting other levers of your eComm strategy.

Featuring Charlie Merrels, Chief Strategy Officer at Molzi, and Craig Jessop, eCommerce Sales Manager at ACCO Brands.
With the
Profitero app

, you gain access to:
Daily insights for 600+ retailers:
Size the sales impact of out-of-stock losses to prioritize resources
Efficiently monitor your inventory health across all online retailers, in one tool
Be alerted when in-stock rates drop below benchmark, so you can react quickly
Anticipate out of stocks before they happen using page traffic insights
Maximize advertising ROI and win share by conquesting out-of-stock competitors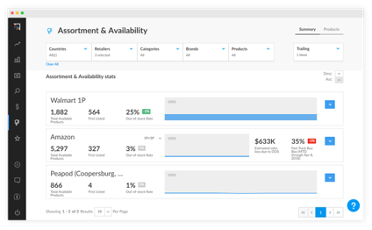 Top use cases for availability insights
1. Identifying OOS products in your portfolio
2. Identifying competitor OOS products for ad conquesting
Work with our Insights team to take action on your eCommerce data
Customized Availability Tracker
Get an Excel report that includes SKU, brand and retailer level insights on availability status at your chosen retailers. These insights enable brands to pinpoint and fix OOS problems.
Benefits:
Identify your biggest OOS issues by tracking availability of your products by retailer
Ensure the discoverability of your top-selling SKUs by making sure they're in stock
Drive Amazon growth by providing SKU-level insights for prioritization
Measure & minimize your estimated sales loss on Amazon due to out-of-stocks
Customer Loyalty Analysis
Track consumer switching and retention patterns to understand not only how common brand switching is in your category, but whether the behavior is due to out-of-stock issues or some other factor (like lower prices).
Benefits:
Understand when and how much brand switching & substitution is happening
Identify which of your categories and brands are most at risk
Diagnose reasons why consumers are switching to other brands, e.g., lack of available product/out-of-stocks
Track trends to pinpoint any changes in unique vs. repeat customers